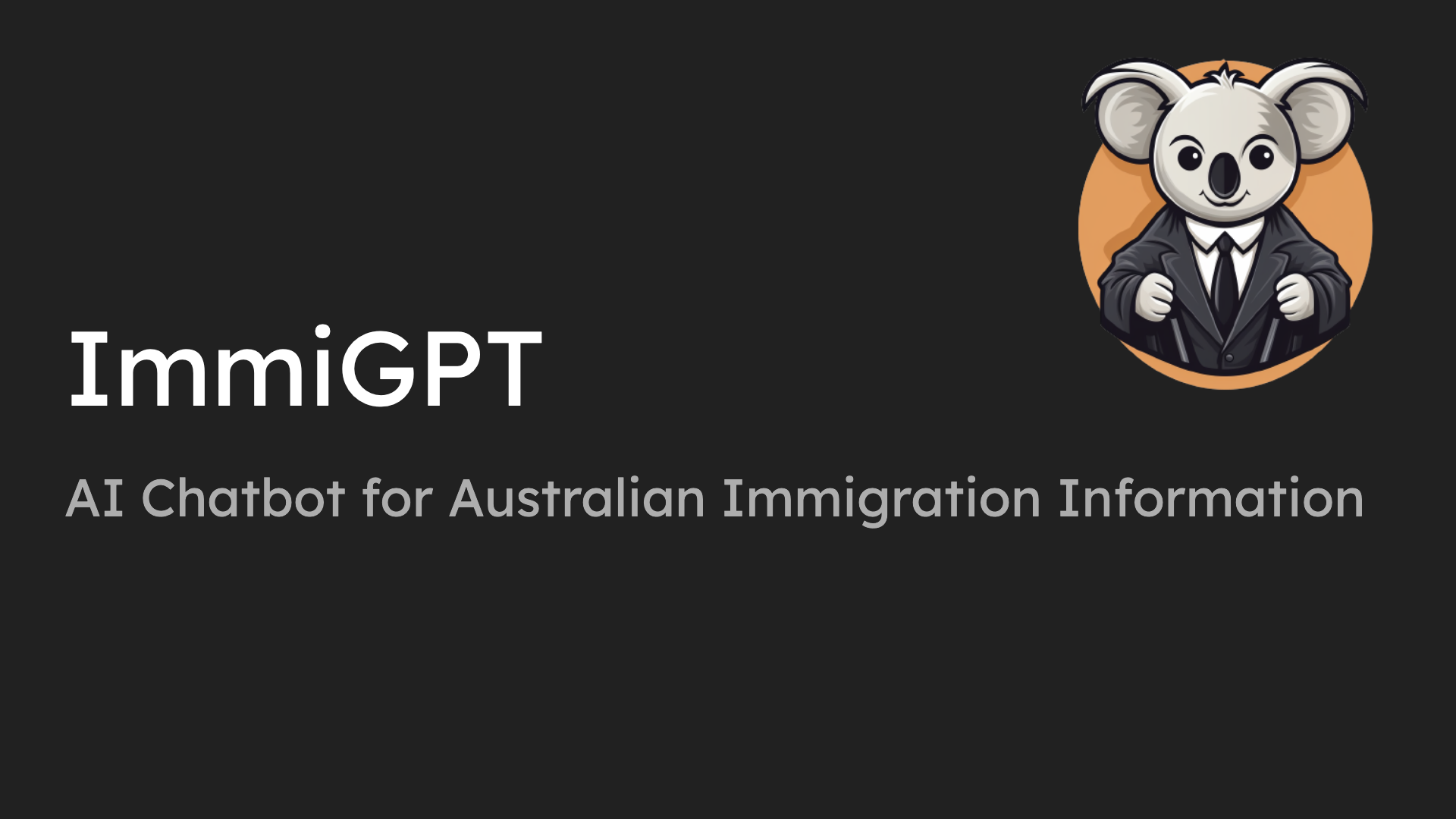 Introducing ImmiGPT. Australian Immigration Information Bot.
Say hello to #ImmiGPT 🛂🤖, a result of my recent venture into #LLMs, and using them to solve real problems for Skilled Migrants in Australia.
ImmiGPT is a AI powered chatbot designed to produce factually correct, and up to date information about Australian Immigration system. ImmiGPT uses a technique called Retrieval-augmented generation("RAG") to generate responses using a proprietary dataset about Australian immigration and visa system that comes from leading industry sources. As a result of this technique, ImmiGPT generates more up to date, and factually correct information compared to other general language models like ChatGPT.
Immigration has been a huge part of Australia's story in the last few centuries. Skilled worker immigration has significantly impacted Australia's economic trajectory. Each year, Australia receives tens of thousands of Skilled migrants joining the Australian economy and fulfilling skill shortages in key areas of the economy such as Information Technology, Health Care, Early Childhood education etc. These skilled workers have to go through a long visa application process in order to come to, and continue staying in Australia. While the Australian Government's Department of Home Affairs publishes information about this process such as what are the visa types, conditions, costs, waiting periods, checklists etc, this information is generally split in many different web pages and is hard for a layperson to access and make sense of. This is especially true considering the rules and conditions change all the time.
I got the idea of ImmiGPT a few weeks ago. I was helping a close personal contact go through the skilled worker visa process. She and her family were looking to get sponsored as skilled worker in Early Childhood Education. She had the right Australian educational qualifications and Australian work experience. However, it was hard for her to get trusted information about how it works and what the process involved. She was working with a migration law firm, but they did not seem to have her best interest at their heart, and also were extremely hard to get hold of on the phone. I adviced her to look for other migration agents, one one whom quoted an amount, more than half of median Australian annual salary after tax, outrageous! This seemed wrong to me, some trusted migration advice should not cost you over 6 months of pay. As a software engineer, I decided to see if I could help, and hence ImmiGPT was born.
ImmiGPT was built using #python, #langchain, #chainlit & #gpt3.5